Freshest Produce Around
These days, you are probably more health conscious than ever before. With goals of eating right and staying fit, you need look no further for the best, farm-fresh produce. We have gone to great lengths to carry only the finest fruits and vegetables and to deliver them to you in the same excellent condition as when they were picked.
Here at Fresh Market we have also been working hard to provide you with a greater variety of Organic produce at prices you can still afford.
Our Specialties
At Fresh Market we pride ourselves on carrying the freshest products at the most competitive prices and while you can get great mainstays in the produce department every day at all of our locations, there are a few items that we make daily to make your experience at Fresh Market unique. We call them Our Specialties, because that is just what they are.
Fresh Salsa
We create the best fresh salsa on the planet! Produced by our in-store experts, each produce department selects only the freshest ingredients to chop, slice and blend into a fantastic treat for your whole family. It's a healthy and delicious way to brighten your average lunch or ho-hum dinner. Try some today, but be forewarned, it's addictive!
Fresh Made Guacamole
We wait until the Hass Avocado has ripened to perfection and combine it with other fresh ingredients to create this delicious snack. We only use Hass avocados because of their superior quality and flavor. Not only is our Fresh Made Guacamole great for a snack its perfect for making a meal at home, tacos, tostadas, sandwiches or your own 7 layer dip; you can tell your friends that you made it. It will be our secret.
Fresh Cut Fruit
We have trained professionals in each Fresh Market produce department that are ready to help you with your party, snacking or meal time needs. We cut the sweetest cantaloupe, the ripest watermelon, the juiciest berries and much more so you don't have to. The products in our Fresh Cut Fruit section make for a great treat for the kids and let's face it, you don't have the time you need to cut it, but you know that your family will enjoy it if it's all pre-cut and ready to go. Let us help.
Fresh Cut Vegetables
Look for our Fresh Cut Vegetable section to be your destination for meal solutions and snacking ideas. We select the freshest vegetable items and turn them into fantastic creations that will save you time and turn your dinner table into an epicurean eating experience. Veggies for roasting, grilling, steaming and snacking are all available every day in our Fresh Cut Vegetable section. Don't forget the Litehouse dip!
Stew or Roast Vegetables
It doesn't get any easier than this. Whether you are making a stew for that cool fall day or a roast for Sunday dinner, our Stew and Roast veggie mix is the perfect solution to make your preparation and clean-up that much faster. They are the perfect blend of carrots, potatoes, onions, and celery to make your meal a delicious success.
Fresh Means Local
Fresh Market is a local company and is proud to support other local businesses. The benefits of supporting a local company like Fresh Market are many. By partnering with local growers and providers, Fresh Market provides the freshest products to our guests. Plus, the money that is spent in our store, stays here in Utah helping build an even stronger local economy. Finally, supporting local companies helps the environment, reducing emissions and saving fuel.
Our Local Farmers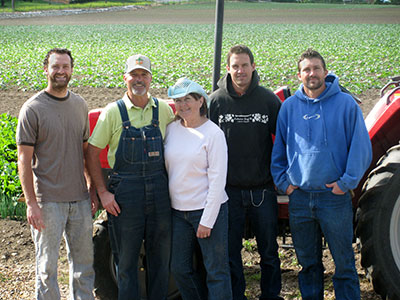 Bangerter Farms
In 1902 Bangerter farms started when Nicklas Bangerter purchased 10 acres for a family farm in Bountiful, Utah. The farm continues today with Alan Bangerter and his sons managing the family business. Bangerter Farms has grown some of the state's best corn, radishes, zucchini and other vegetables for six generations.
Castle Valley Greenhouses
Castle Valley Greenhouses have raised tomatoes hydroponically for many years. It all started in 1980 when Russell Christensen discovered 220 degree water while drilling an irrigation well. Shortly after, he built his first greenhouse in Newcastle, Utah using the water to heat the greenhouses. In 2006, four of his grandsons purchased the business and added greenhouses that now cover more than an acre.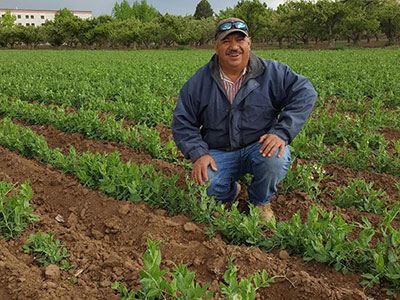 Chavez Farms
Carlos Chavez grew up on his family's farm in Mexico and has been farming most of his life. He came to the U.S. in 1975 and began farming in Orem, Utah in 1992. He supplies local grocery stores with his fresh fruit and vegetables. Chavez farms main crops are cherries, peaches, apples, corn, tomatoes, peppers, zucchini, yellow squash and cucumbers.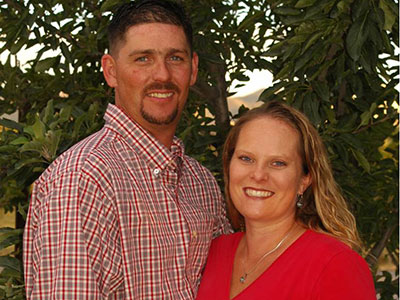 Farnsworth Farms
Farnsworth Farms was founded in 1958, by John O. Farnsworth. He planted an apple orchard and in 1965 he purchased an apple press to make fresh-pressed apple juice. Today, Farnsworth Farms is run by Eric and Shelly Farnsworth Latham and they continue to make the same high-quality, 100% fresh-pressed apple juice.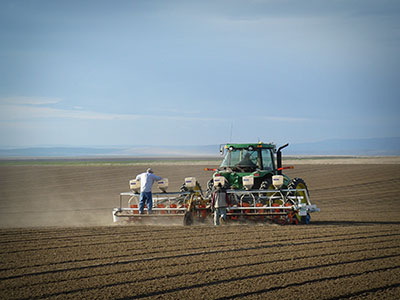 Hartley's Best Onions
Hartley's Best Onions was started in 1978 by Blaine Hartley. Today it is owned and operated by Trent B. Hartley. They have locations in Salt Lake City, Syracuse and Corrinne, Utah and specialize in yellow, red, white and sweet onions and other various produce items.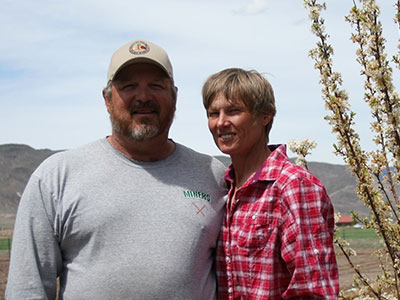 Heirlooms and More
Darin and Jennifer Worden's great adventure began in 2011 when they decided to use their passion for growing heirloom produce to supplement the family income. They started growing specialty heirloom produce both in their back yard garden and on nearby land owned by family friends. In 2013, they purchased 25 acres in Elsinore where they now grow onions, carrots, beets; various species of heirloom popcorn, sweet and dent corn; and dry beans.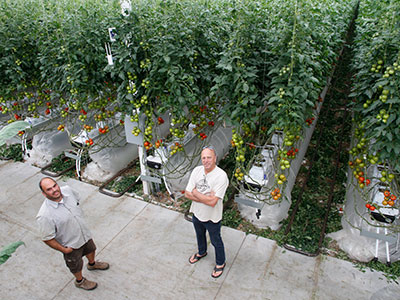 Houweling's Tomatoes
From the time he was a small boy pruning and picking his father's vegetables, Casey Houweling knew he wanted to be a farmer, but not a traditional one. Today, Houweling Tomatoes, located in Mona, Utah grows fresh tomatoes year-round. Houweling's utilizes state-of-the-art technology in their greenhouses that gives Utahns access to the freshest, best tasting, locally grown tomatoes regardless of season.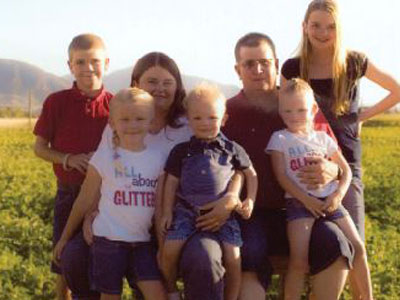 Hatfield Farm
Russell and Stacy Hatfield started farming fruit and vegetables fifteen years ago to sell at farmers markets. They began with a couple rows and are now up to three acres. They plant a variety of fruit and vegetables but their specialty is sweet onions.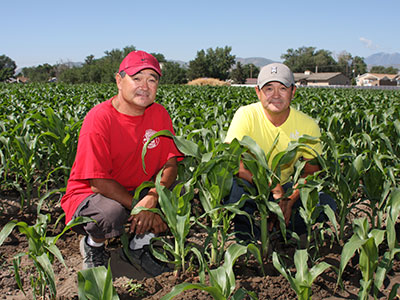 Kuwahara Farms
Kuwahara Farms is owned and operated by Roland Kuwahara. Roland's father started the farm in Murray, Utah in 1965 producing vegetables. In 1983 the family moved the farm to draper and has been raising tomatoes, lettuce, bell peppers, zucchini, cucumbers and other delicious vegetables ever since.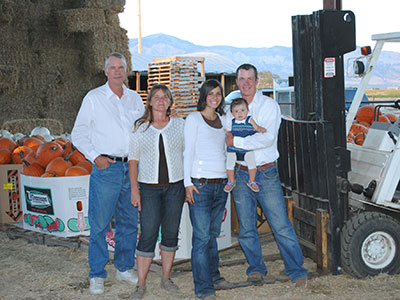 McFarland
Layne and Kenny McFarland are proud to carry on the multi-generation farming tradition in West Weber, Utah that began in 1859. Layne started growing fresh market produce in 1987 and quickly became known for growing high-quality produce. Layne and Kenny now farm over 200 acres and produce over four million pounds of fresh market vegetables every year. They specialize in growing sweet corn, onions, squash, and pumpkins for families across Utah.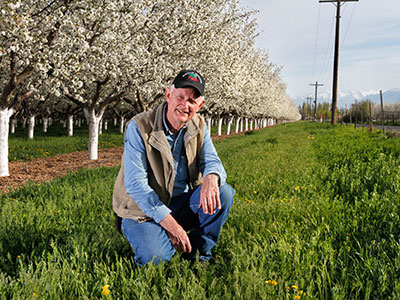 McMullin Orchards
For the past 80 years the McMullin family has been growing fruit in a beautiful valley in central Utah. McMullin Orchards now have their fourth generation working in the fruit business and have grown to over 900 acres in three locations in Utah County producing cherries, peaches, apples and more.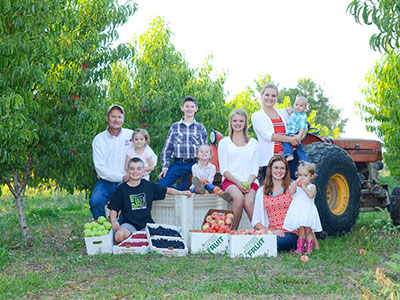 Mitchell Farms
Mitchell Farms, located in American Fork, Utah is a third-generation family owned and operated farm. Their focus is on growing farm-fresh produce ranging from apples to berries.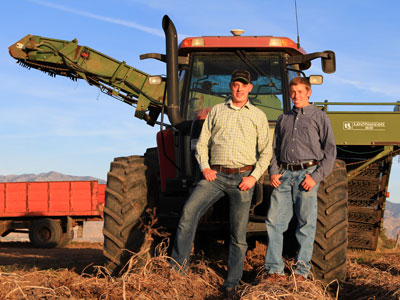 Johnson Family Farms
The Johnson family has been farming in Cache Valley for over a century. As the 4th generation on the farm, Kelby and Braydon Johnson produce some of the best potatoes, sweetcorn, watermelons, peppers, onions and winter squash. They are dedicated to providing local, high-quality, and healthy produce to you and your family.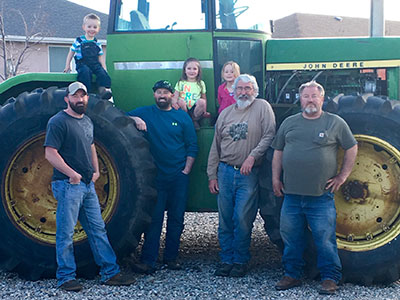 Mountain Country
Mountain Country Produce was started in 1997 around family, friends, hard work and quality products. Mountain Country is involved in all aspects of vegetable production. Mountain Country takes pride in providing many quality products such as sweet corn, watermelons, pumpkins and cantaloupes to local and western states market.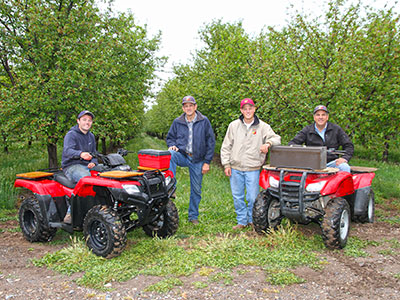 Mountainland Apples
Mountainland Apples was formed as a grower cooperative in 1983. Growers in southern Utah County decided to work together and build a facility to provide up-to-date storage and packing capabilities. All of their farms are owned and managed by multi-generational families and grow most apple varieties along with sweet cherries, apricots, peaches and nectarines.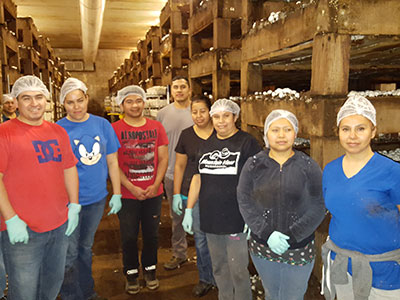 Mountain View Mushrooms
Mountain View Mushrooms is the largest producer of fresh mushrooms in the Intermountain West. They are a wholesaler whose primary customers are food service and retail outlets. They grow, harvest, package and distribute products from the rural community of Fillmore, Utah.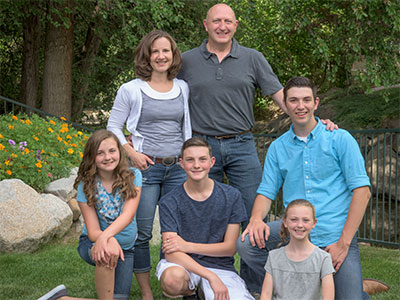 Nature Jims Sprouts
Nature Jim's Sprouts has an indoor hydroponic farm located in the beautiful Salt Lake Valley. The Reynolds family has grown sprouts and micro greens since the 1950s and is one of the oldest growers of sprouts in the United States. The farm has been run by three generations of family. They grow alfalfa, radish, broccoli, clover, wheat grass and three-bean mix.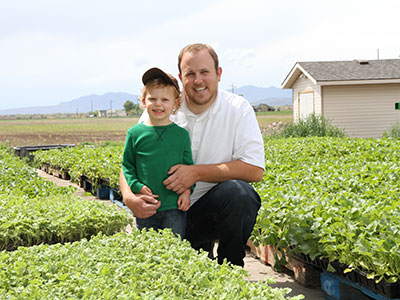 Ogden Bay
It all started in 1909 when Hyrum Peterson purchased 200 acres in Taylor, Utah. He saw an advertisement in a magazine that farmers were starting vegetable transplants in a shoe box and thought to give this new concept a try. The sandy loam soil of Taylor made a beautiful seed bed and he found himself very successful. Ogden Bay is now in its fourth generation and currently grows over 100 acres of produce growing over 2.7 million pounds of produce across Northern Utah and surrounding states.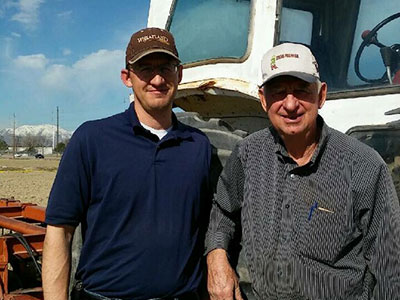 Schmidt Family
The Schmidt family has farmed in West Jordan, Utah since 1911. Grandpa Schmidt decided to settle there to raise his family on a farm. The family started raising a sweet corn and selling it on Redwood road to make some extra money. Richard Schmidt continues the tradition full time with his son Ryan and a group of great team members. They raise a variety of fresh produce including tomatoes, melons, pepper and pumpkins and sweet corn.
Stirling
Stirling Fruit & Vegetable Co is a fifth-generation, Utah-family run farm and has been owned by the Stirling family for over 140 years. Their peaches, watermelon, cantaloupe and grapes are delivered to stores within hours after being picked.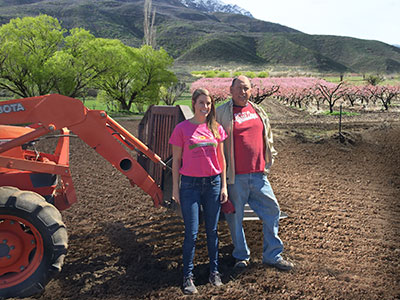 Tagge
Tagge Farms was founded in 1997 when Thayne and Cari Tagge bought their first orchard in Brigham City, Utah. Since then they have planted a wide variety of Willard Bay blackberries, cherries, raspberries, apricots, apples, plums, pears, and all types of vegetables and are proud to be a first generation farming family.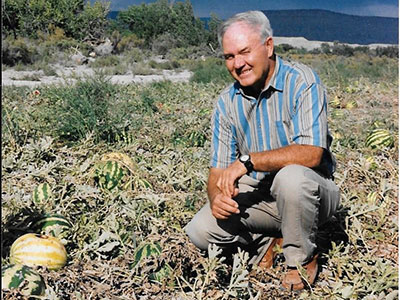 Thayns Melons
Thayns is a farm that began in the small town of Wellington, Utah. They grew hay, corn, barley and had cattle. After a move to Green River, Utah they expanded into that area's famous Green River Melons. The father and son operation includes help from grandchildren, daughters, and terrific hired help.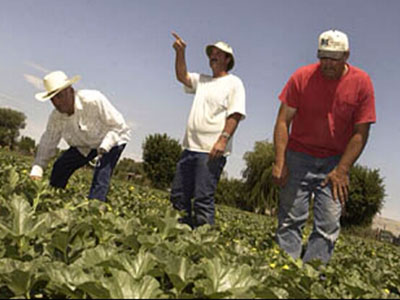 Vetere Melon Farm
Since Eisenhower was in office, the Vetere family has been growing melons in Green River, Utah. Jay Vetere started the farm in 1958 inspired by memories of his childhood when his father grew melons on the family farm. Jay Vetere set up a stand in town that is still operating more than 50 years later.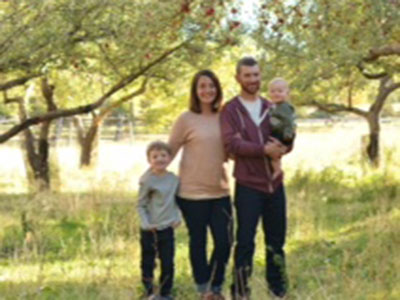 Urban Farm & Feed
Marty and Maryann Alston are the founders, farmers, and owners of Urban Farm & Feed. They have both been involved in family businesses and farming their entire lives. Their interest in growing food stems from their overwhelming love for working the land, and providing their family and yours quality, healthy food.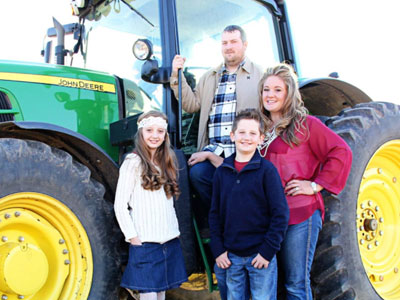 East Farms
East Farms was founded in 1997 by Jeremy and Shay East. Jeremy grew up farming on his grandfather's vegetable farm in Bountiful. East Farm is based out of Layton, Utah and farms over 400 acres in Davis and Weber counties. They grow a wide array of conventional and organic vegetables.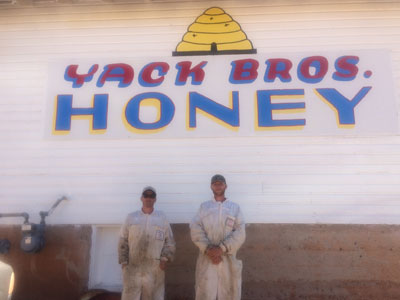 Yack Bros. Honey
Yack Bros. Honey was started in 1947 by Bill, Ed, Laurance and Frank Yack. Now in 2017 their grandsons Gabe and Zeke run the business and it's still going strong. They have over 7000 bee colonies that are located throughout the Uintah Basin. Their honey is very sweet and always raw and unfiltered.
Produce Care Tips
With our great prices on your favorite produce, you will be buying more produce than you can handle! Look below for seasonally relevant produce care tips to help keep your produce from spoiling too quickly. You can also click here to view all of our produce care tips. You will never have a rotten tomato or soggy apple after reading these tips!
How WE keep your produce fresh
At Fresh Market, we believe that you can only get, and keep, truly fresh produce if it is fresh when you carry it out of the store. With this in mind, all of our stores have adopted policies that keep your future produce fresh while it is in our care.
Produce Expert Videos
Our produce experts want to share their vast knowledge with you. We have given them the perfect medium to do this. Watch the produce expert videos to learn everything from how to pick the best apples to how to cut a watermelon.


---
Other Departments
SHOP ONLINE
Home or Business Delivery
Fresh Market PLUS
Already started a profile in-store? Complete your profile.