Deli Offerings to Die For
At Fresh Market we're all about making your life easy. Our quality deli offers a variety of specialty items and delicious grab-and-go meals that are made fresh daily. We have a large variety and assortment of side-salads, party trays, cheese balls, local meats, sandwiches and meal solutions to assist you when your family is hungry and you're in a hurry, (or maybe you deserve the night off from cooking!)
Delicious Salads
When you need the perfect side dish Fresh Market has you covered! We have a variety of delicious salads made daily from cherished recipes with the freshest quality ingredients. Some of our favorites include our coleslaw, seafood salad and our famous chicken salad.
Call your local, friendly deli team member to hear the assortment of fresh salads we're serving today.
Meats & Cheeses
Fresh Market has the perfect assortment of the finest fresh-cut meats and cheeses. Some of the quality brands that we carry include Shepherd's Cheese (made locally in Erda, Utah), Birchberrry Meats, BelGioioso parmesan cheeses, Columbus meats and more.
Call your local, friendly deli team member to hear a complete list of our meats and cheeses.
Fresh Fried Chicken
We go the extra-mile to make the tastiest fresh-fried chicken at Fresh Market. We hand-dip, double-bread and fresh-fry our chicken every four-hours to ensure the best quality and freshness. With our specialty recipe, our delicious fried chicken is crispy but tender and juicy on the inside. We sell a variety of chicken meals large and small to accommodate every appetite or party size.
Meal Deals
Do you need the night off from cooking? If you'd like a scrumptious meal in a hurry, stop by Fresh Market for a dinner-to-go. Our meal deals include 8 piece fried or baked chicken, one pound of our fresh made salads (you choose from potato salad, macaroni salad, Jell-O or baked beans) and a four pack of delicious dinner rolls. We also have a variety of to-go meal options large and small that the whole family will enjoy!
Deli Trays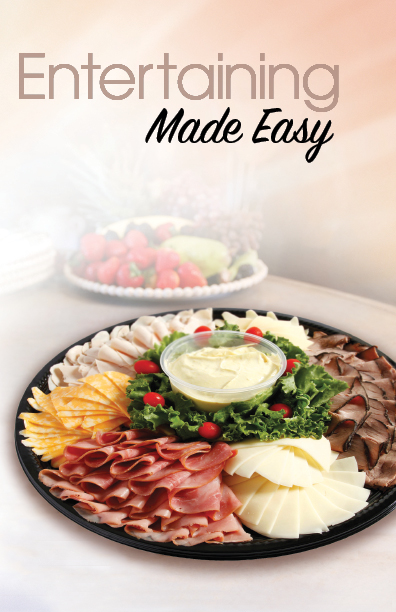 You may love the idea of entertaining, but not all the work involved. We can help with great food for every occasion, freshly made from the best ingredients available anywhere. Whether you need appetizers, entrees, or desserts, we have you covered. Maybe you're planning a birthday party, holiday get together or just a backyard barbecue, let us help you make it a hit with all your guests.
---
Other Departments
SHOP ONLINE
Home or Business Delivery
Fresh Market PLUS
Already started a profile in-store? Complete your profile.